Shottenkirk Customer Care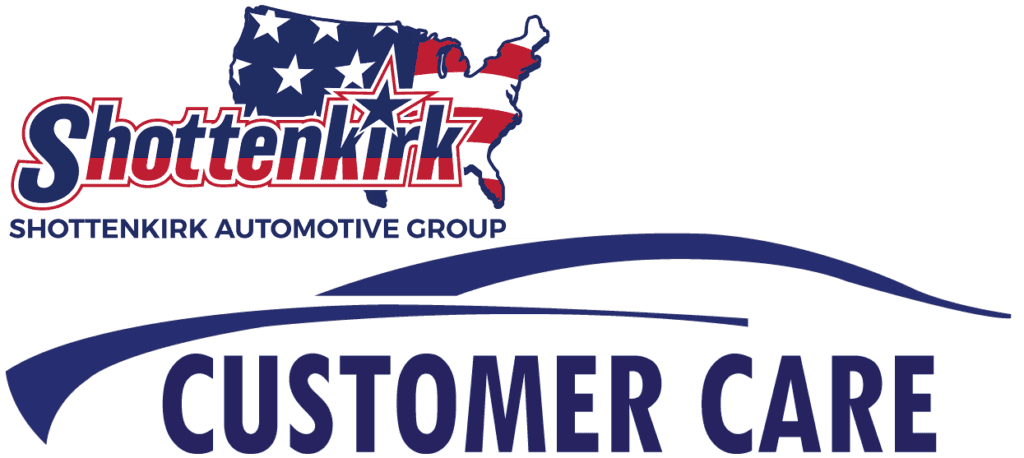 The Shottenkirk Automotive Group realizes that our customers choose our dealerships for a variety of reasons. We understand that volume pricing and selection are key to attracting customers but it's our commitment to the great ownership experience that has built such long term relationships with our customers. This is the reason why we offer the Shottenkirk Customer Care Package!

With Shottenkirk Car Care we start you off with a Worry Free first year of ownership. This includes several benefits that our customers have come to love and keep them coming back again and again! The first benefit is the amazing Wheel and Tire Protection. This program provides protection against the most common occurrences that damages wheels and tires such as potholes, debris, and much more.

The second and third benefits are the Front Windshield repair for new/used vehicles and key replacement for our new vehicles. Chips, "bullseyes", or cracks that are less than 6-inches caused by a variety of flying objects such as rocks we will happily repair if it is possible. You can see clearly now that the cracks are gone with the Front Windshield repair program! Next is the very popular key replacement program where we will replace a key for a lost, stolen, or destroyed key/fob for any covered vehicle. This product has been one of the most requested services that we are excited to announce is now available with the Shottenkirk Car Care Package!

No longer do you have to worry about parking your vehicle, going into a store, then coming out with a hideous dent from a car door that was parked next to you. With this package we will permanently remove these door dings with a process that will not hard your vehicle's factory finish. With our PDR (Paintless Dent Repair) service, you will never again have to worry about those pesky door dent and dings! Next is the Powertrain limited warranty plus coverage. What is a Powertrain? Essentially it is the components of your vehicle that make it function and are typically the most costly to replace; such as the engine, transmission, and such parts along with an added bonus of A/C system protection! See the dealer for a comprehensive list of covered equipment.

The last but far from least benefit is the EG Repel Plus coverage. Vehicles are expensive, so why would you not want to protect your investment? With the Shottenkirk Car Car Program, that investment is very much protected with all the features above and this Repel plus just adds to that value. Several things are in the air that can damage the exterior of your vehicle, and this extra protection is here for those instances that many don't think about, but are still very real threats to your vehicle's finish. Come in today, call, or email us for more information on this great program you are sure to love. If you are ready to start looking at our great inventory options, click one of the links below to find your dream vehicle today!


*Certain restrictions may apply. See dealer for details.
**Under 97,000 miles will receive a 6month/6,000 miles powertrain warranty. Vehicles over 97,001-119,999 will receive a 3-month/3000 miles powertrain warranty. No coverage on vehicles over 120,000 miles. Some restrictions apply; please call us for a copy of the contract for specific information.